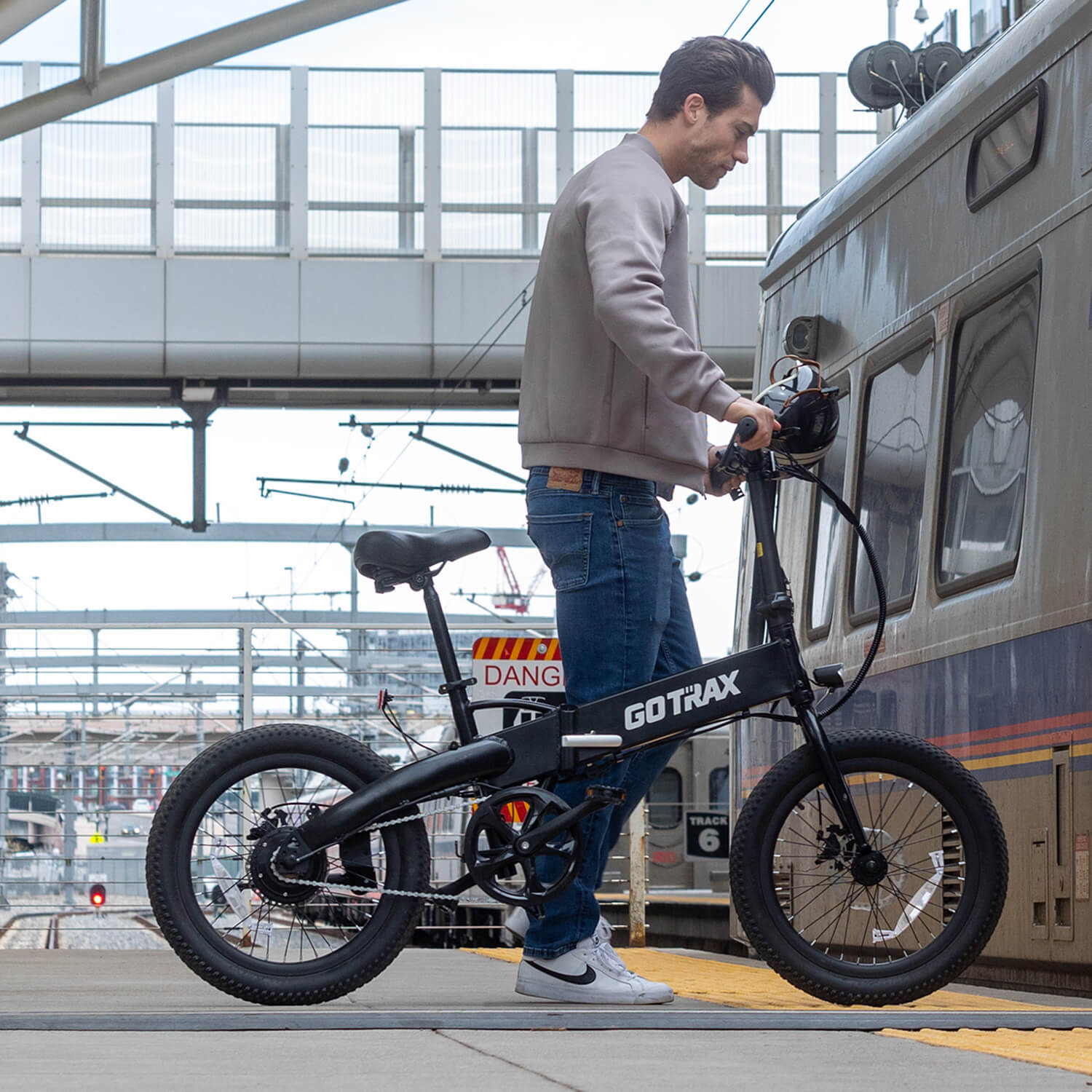 F1 Electric Bike
The F1 is a whole new experience in commuting. Merging a lightweight, folding frame with durable 20" tires, the F1 offers a convenient and efficient ride at an unbeatable price.
---



EASY STORAGE
FOLDING FRAME
2 Year Warranty
Safety Certified
Gotrax has you covered.
In accordance with UL 2849
Features
F1 Folding Electric Bike
The F1 is our entry level e-bike. Its lighter weight, great quality, and folding frame make it a convenient form of travel. Designed to allow riders of all types to try their first e-bike while maintaining an ultra-affordable price point, the F1 is a great choice for first time e-bike owners and makes a wonderful gift.
Digital Display
The digital display provides quick readouts on speed, battery life, pedal assist, headlight control, and more.
Folding Frame
The easy-folding frame makes your e-bike totally portable without the use of a bike rack. You can now fit your e-bike in your car, in a closet, or even under your desk.
Pedal Assist & Throttle
The F1's pedal assist and throttle ensure that you're in control of your ride. Choose between 5 different speed settings ranging from 7 mph to 20 mph, or use the throttle and skip the pedaling entirely.
20" Fat Tires
Built with 20" by 2.6" wide tires that absorb the shock of bumpy roads and multiple terrains, the F1 is designed to be a reliable entry-level e-bike for all types of riders.
Adjustable Sizing
The F1 is a great fit for all riders. Easily adjust the seat and handlebars height to meet your needs and create the most comfortable ride possible.
Dual Braking
Just like a standard bike, this e-bike features dual braking to keep you safe and in control of your ride.
Reactive Tail Light
The F1's highly-visible red tail light shines when you brake, letting pedestrians, motorists, and other riders know when you're slowing down.
Integrated Headlight
The F1's bright LED headlight provides important visibility during early morning and late night rides.
Full Specifications
Any and every detail you want to know about your F1 Electric Bike available in one convenient place.
Battery Size
48V 7.8aH Lithium-ion Battery (374.4Wh)
Brakes
Dual Braking on Front/Back Wheels
This product is rated 4.8 of 5.0 stars.
It has received 51 reviews.
Fast delivery and I can't wait to give to my son on his birthday!!
came with scratches and not hitting 20mph
vicki's bike
I love it, it is soo much fun. I'm sad that winter is coming. The only thing is the manual should be a little more detailed.
F1 E-Bikes
Well balanced bike foldable and easy to store. Only thing about this bike is when you fold it there is no lock to stay folded. The throttle torque is too fast for beginners rather than that I enjoy riding this bike.
I like the bike. But not the accessories available.
I was needing a light folding bike to take on a boat trip.
I really like the F1 for the size and weight plus the fact that it does not have a derailleur to get bent up moving around,
However I am finding it difficult to find accessories for the thing.
I took the free helmet because your website doesn't really have any accessories that aren't available at Walmart, I need finders and a rear and possibly a front luggage rack. The much heavier version comes with them.