Our Purpose
Over 1,000,000 riders and counting. Since 2017 GOTRAX has strived to create, develop, and design the best electric scooters. We have a wide selection of escooters for adults, teens, and kids. They come with a multitude of features to ensure you have smooth and exhilarating ride.
We are committed to quality, performance, and rider satisfaction. That should be clear based on the models of electric scooter you see above. It doesn't matter if you're a regular commuter or just the weekend adventurer, GOTRAX will take your electric scooter riding experience to the next level.
Take time to find the right model for you and if you have any questions don't hesitate to reach out to the GOTRAX Team!
Types of Electric Scooters
Commuter
For the hustle and bustle of the big city or taking your ride around town escooters in this category feature longer ranges and higher top speeds to help you on your commuter and after it.
Casual
Our entry level models are ideal for first timers and beginners who are looking to take their first steps into the world of personal electric vehicles. Escooters in this category are lightweight and easy to use.
Performance
The end all be all for electric scooters. Performance models feature our fastest speeds, our longest range, and most versatile rides. Find the ultimate riding experience for your next adventure.
How Our Electric Scooters Work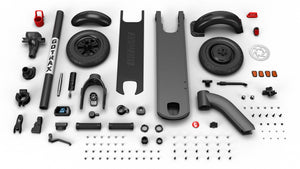 There is a significant amount of time dedicated to research and development of our electric scooters before we announce them. We are always looking for innovations in our rides.
All of our adult electric scooters feature foldable designs that pair well with public transportation and help save storage space. They are built with a simple, but effective hook-n-latch system that makes carrying a breeze.
Additionally, we place incredible emphasis on rider safety. You'll notice LED headlights on all of our adult electric scooters and reflectors to promote visibility. 
On top of that, our lithium-ion batteries are UL certified, tested, and safe. We stand by our products with a 1 year Limited Warranty and our top of the line Repair Service.
Commuter Electric Scooters
A great way to get to work. Commuter electric scooters are designed to handle tough city streets and bike lanes thanks to increased tire size compared to other electric scooters. All of our commuter models feature a rear wheel motor for upgraded hill climbing ability and acceleration so you won't be late!
10" Tires and Up - You won't find tires smaller than 10" here. The air filled pneumatic and shock absorbing tires are perfect for cracks, bumps, and potholes you may come across on your rides.
Multiuse - Don't limit yourself by just going back and forth the work. Use your commuter electric to ride around, discover your city, take to events. The options are only limited to what you think of.
Security - You'll notice on select models, an integrated tiller lock to prevent thieves from running off with your ride. On others, a digital code lock so only you can ride. One of our commuter escooters even requires a key to start.
Your first step. Casual electric scooters provide a safe, effective and fun way to explore. They also allow riders to get comfortable with escooters before going to a different category. Specific features on these models are designed specifically for new riders for both their convenience and safety.
Kick-to-Start - A majority of our electric scooters, commuter models included, feature kick-to-start technology to reduce the stress on the battery and motor from starting at absolute zero.
Lightweight - Thanks large in part to our one touch folding system our electric scooters are able to be carried for longer and easier. Teens and young adults will greatly appreciate not having to lug a heavier scooter around.
LED Digital Display - Once powered on be sure to look over your escooters manual to fully understand the ride you are on. Your display will give you readouts on speed, battery life, headlight.
Performance Electric Scooters
The ultimate riding experience. Our performance level electric scooters have been tested, evaluated, and made for experienced riders who want a bit more out of their escooter. Capable of handling dirt, gravel, pavement and any other material you may ride on truly makes these some of our best scooters yet.
Dual Motor - Reach top speeds of over 30 mph and swap to single motor mode to conserve battery. Our performance electric scooters for adults feature up to 3 different speed modes and control over both of your motors.
Max Range - Plan to ride up to 40+ miles without needing a charge. Our revamped watt hour capacity means you can spend more time riding and less time inside.
Suspension - Our rides have received a significant boost in comfortability thanks to upgraded suspension system. Paired with the off road 10" tires makes for one of our smoothest rides yet.