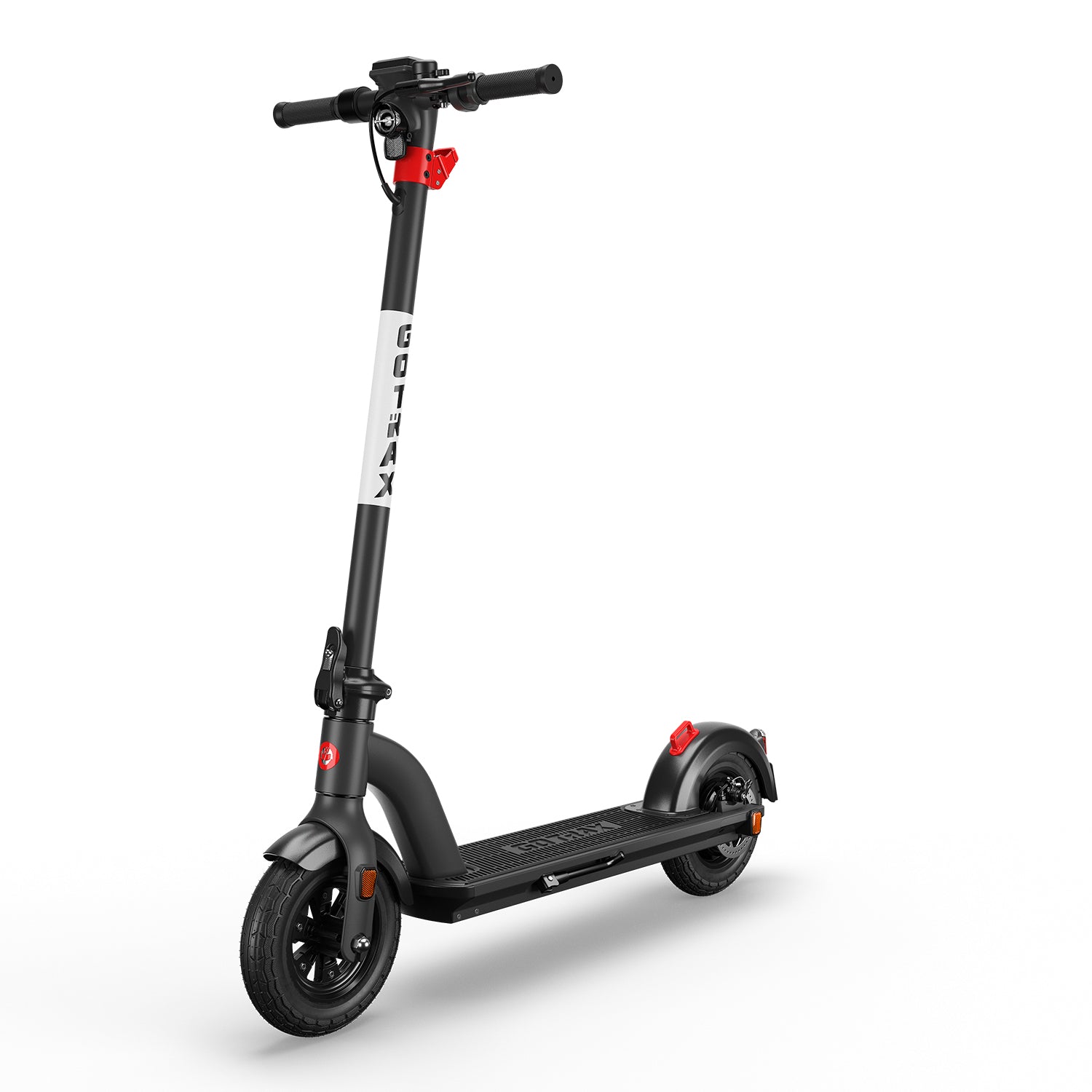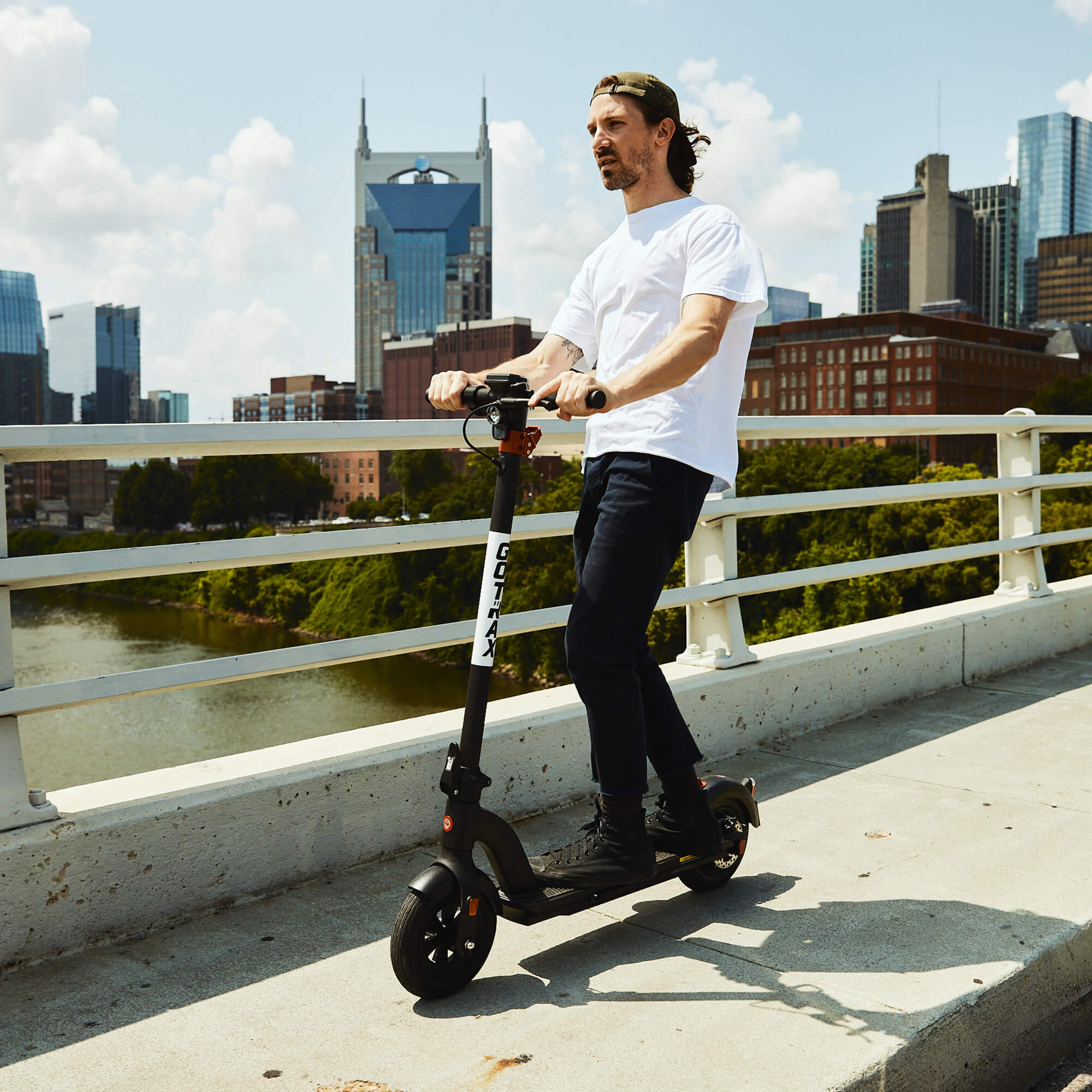 G4 Electric Scooter
Our most popular scooter, the G4 offers the perfect balance of price and specs for regular commutes and joyriding.
---

FOLDING FRAME
EASY STORAGE



Integrated Lock
Built in bike-lock
2 Year Warranty
GOTRAX Has you covered.
Safety Certified
In accordance with UL 2272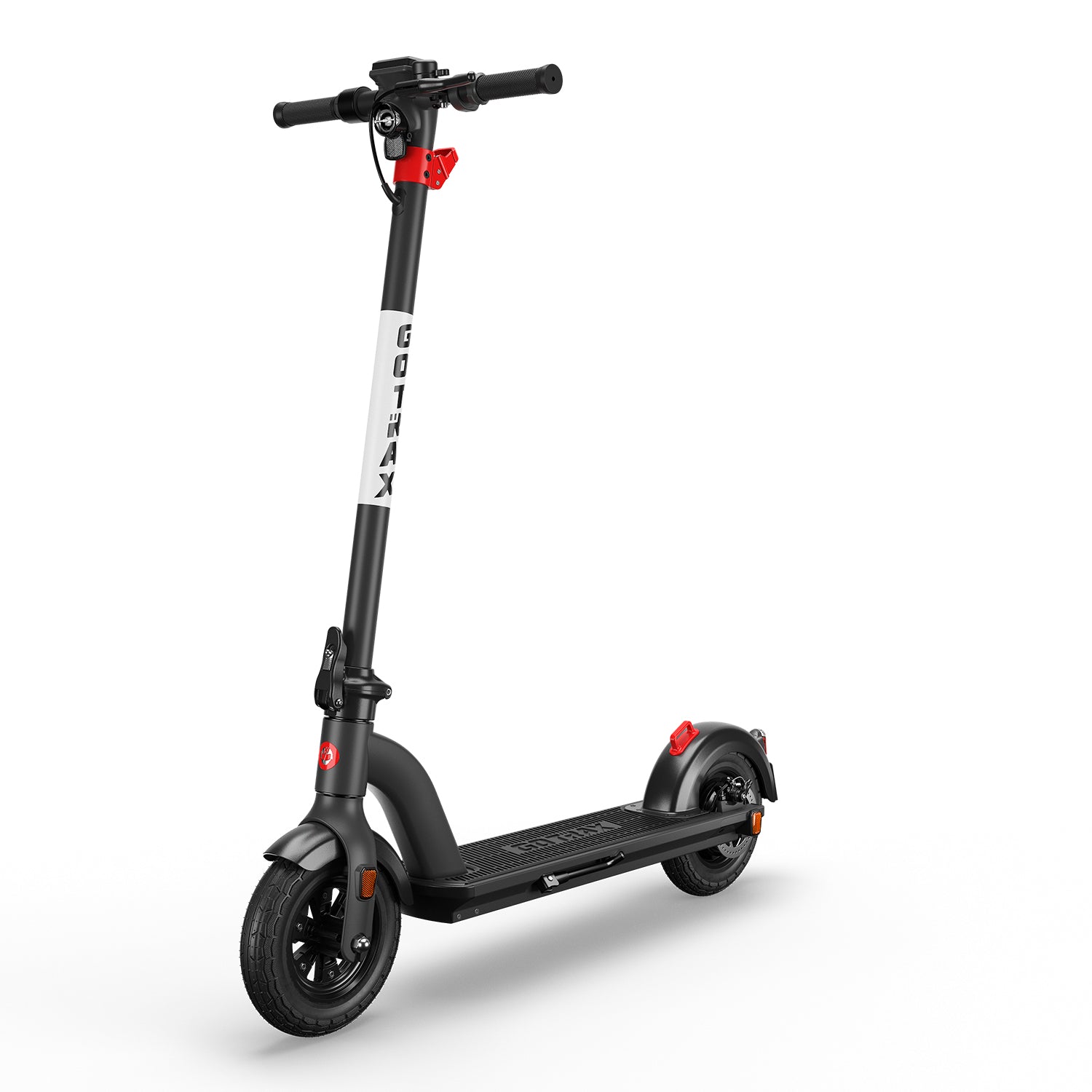 MODEL
G4 Electric Scooter
Features
G4 Commuter Electric Scooter
A classic electric scooter, the G4 is what defines GOTRAX. As one of our best selling scooters for adults, the G4 has a number of features that make it a dependable, foldable, and fun way to get around town.
Rear Wheel Motor
The G4's 500 watt motor can take you to speeds of up to 20 mph in no time. Its rear-wheel positioning provides a better starting acceleration and improves the scooter's hill-climbing ability for steeper commutes.
One-Touch Folding
Instantly fold your electric scooter in half for storage and carrying convenience with our one-touch folding mechanism.
10" Tires
The G4's 10" pneumatic shock-absorbing tires ensure a smooth commute, even on bumpy city streets.
36V Battery
The G4's 374.4 watt hour battery can take you up to 25 miles per charge, giving you plenty of range to go wherever you need and back.
Digital Display
The crisp, clear LED screen provides quick readouts on riding speed, distance, battery life, and more. It includes a digital code feature that allows for added security.
Integrated Lock
The manual tiller lock deters potential thieves and keeps your electric scooter safe when you aren't riding it.
Battery Size
36V 10.4aH Lithium-ion Battery (374.4Wh)
This product is rated 4.5 of 5.0 stars.
It has received 44 reviews.
Thank's Gotrax
first time E scooter owner
Scooter has been to my expectation per all revues and videos
that I have checked
Best value and most functional Gotrax scooter.
I upgraded to this scooter from the XR Elite Max. The 20 MPH speed upgrade from 15.5 is very noticeable - I like it a lot. However, keep in mind that the "range" for how far you can go on each trip is calculated using the lower gear (15.5PMH in this case) for every scooter, so unless you specifically set it to go slower, you will get less than 20 miles per charge, not the advertised 25. All in all, I've loved having this scooter as the folding mechanism is very secure (the XR Elite Max falls open occasionally, but this one can't fall open), The fenders block rain splatters very well, and it handles hills pretty well. The only small complaints I have about it are - the headlight is noticeable worse than I was expecting - in cities with lots of lamp posts it's fine (where you don't need it anyway), but anywhere else it only illuminates a small oval area about 10 feet in front of you - definitely not enough to see or react to any obstacles. I bought a clip-on bike light, but it definitely cramps the handlebar space a lot. Also, when I arrive at work, the battery says 3 out of 4 bars remaining, which is expected. But when I turn it on to go home, it displays all 4 bars of battery, and then loses them much more quickly on the way home until it displays 1, which is what I'd expect it to be on if it had been working normally the whole time. It's not a huge deal, but it could potentially cause you to get stranded somewhere if you forgot you hadn't charged it. Even with those two small issues, this scooter is definitely worth the money. I'd highly recommend it.
Horrible customer experience
I made 2 separate orders and there was a problem with one. Just needed an address swap. Called immediately. Got someone on the phone fairly quick but she said she could not help me, that i needed to use the "customer chat " on the website. I waited 3 hours in front of my computer for a chat agent to send me to a "support" url that asked me for my email and problem. I then need to wait for 48 hours for an email from them. Customer support is horrible. Do not order from this company.