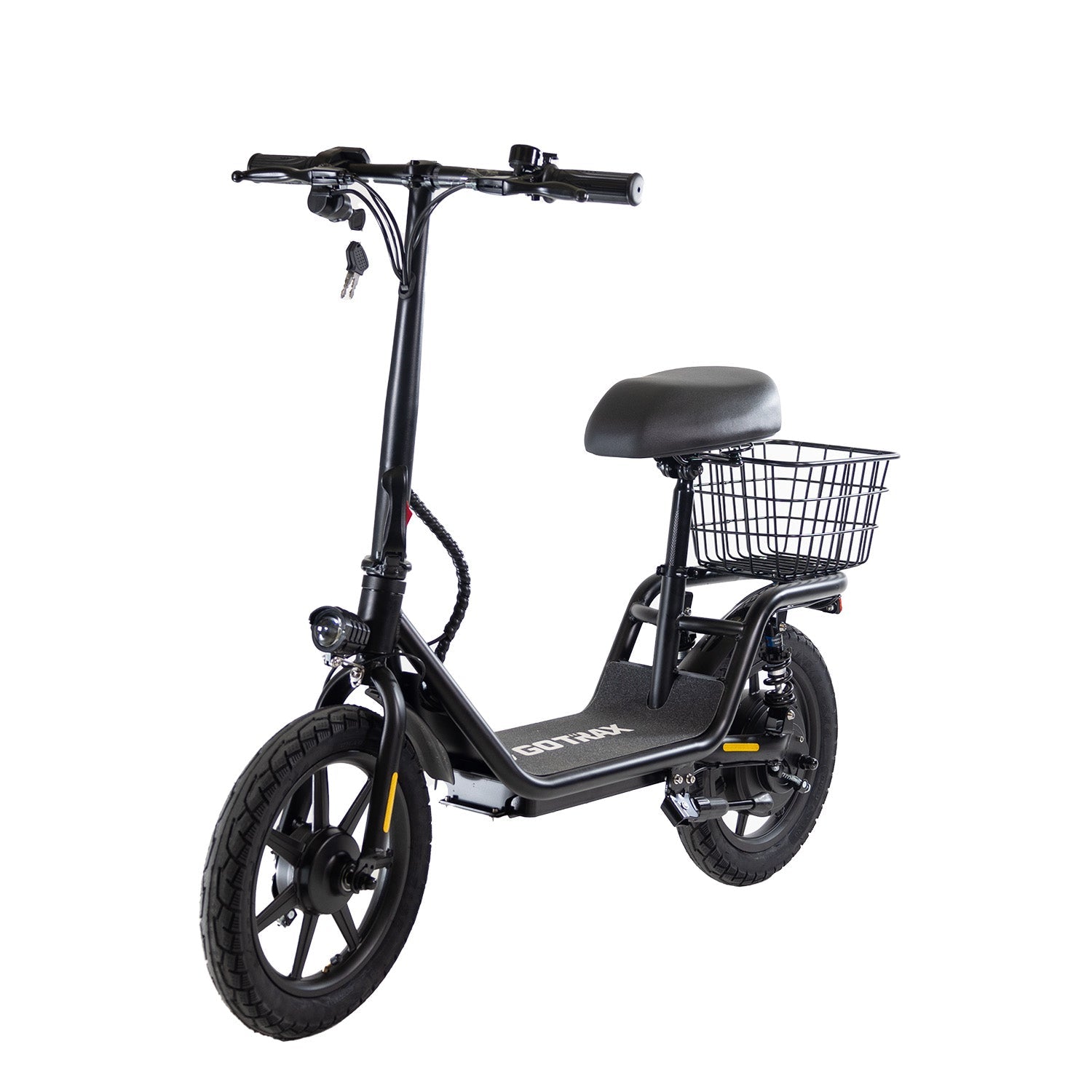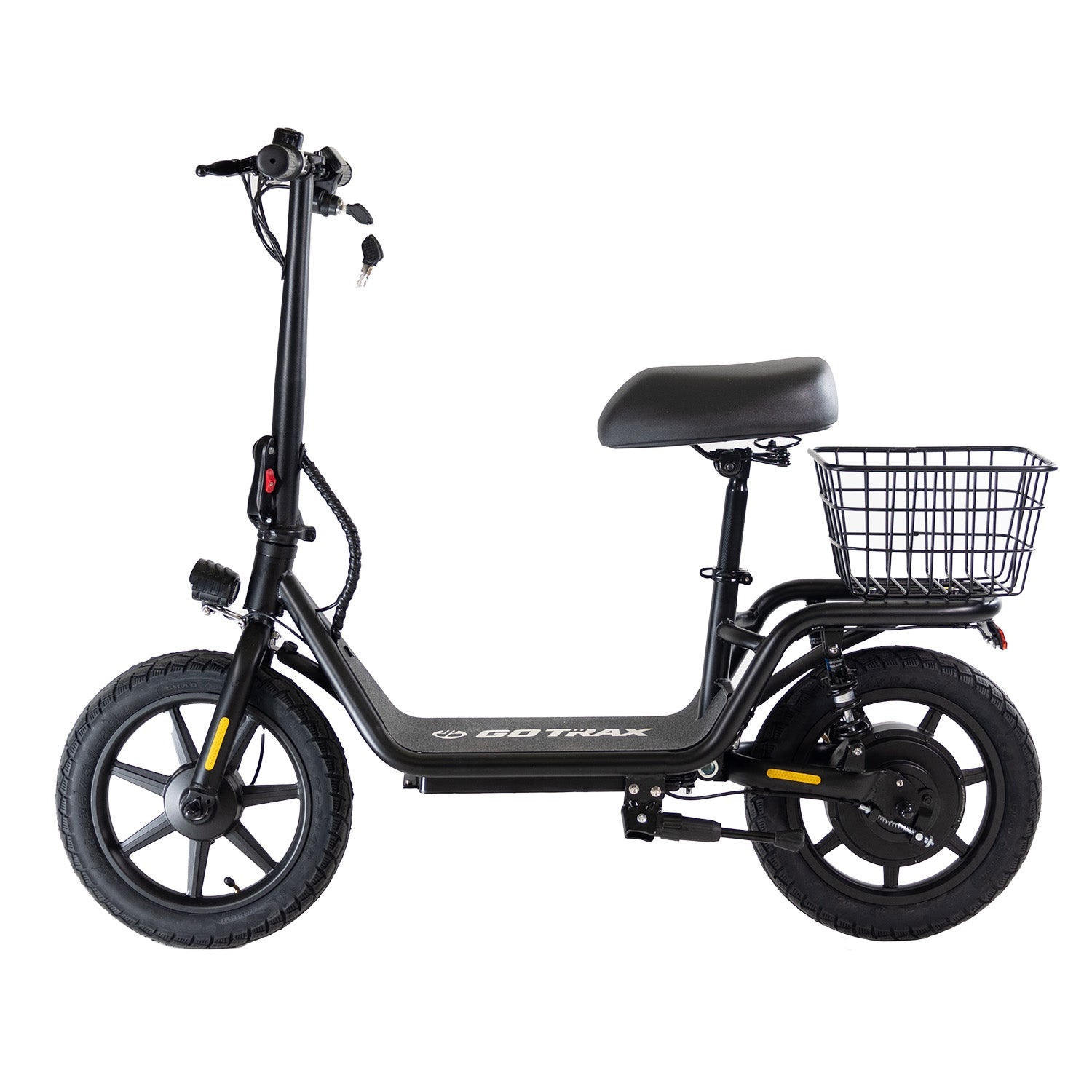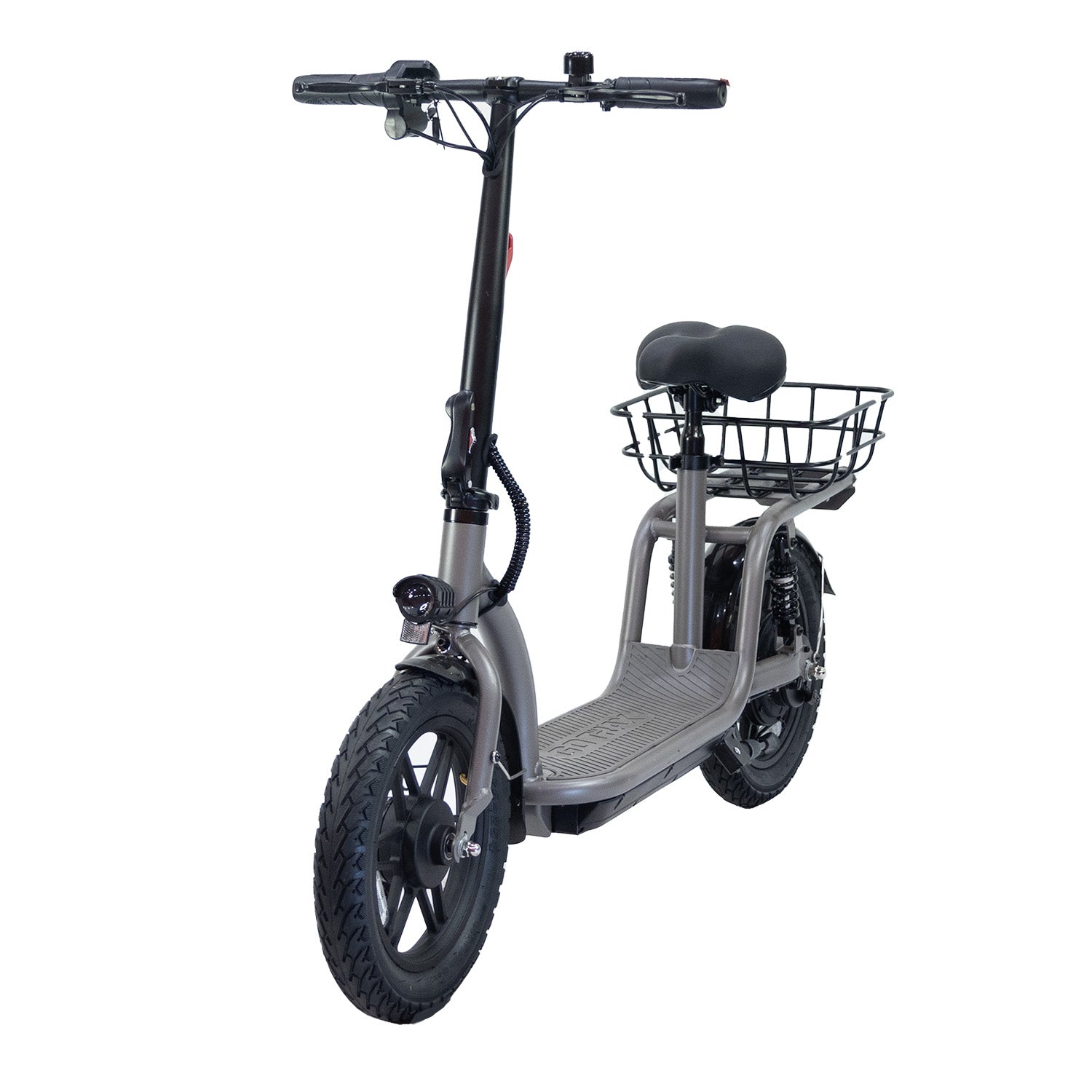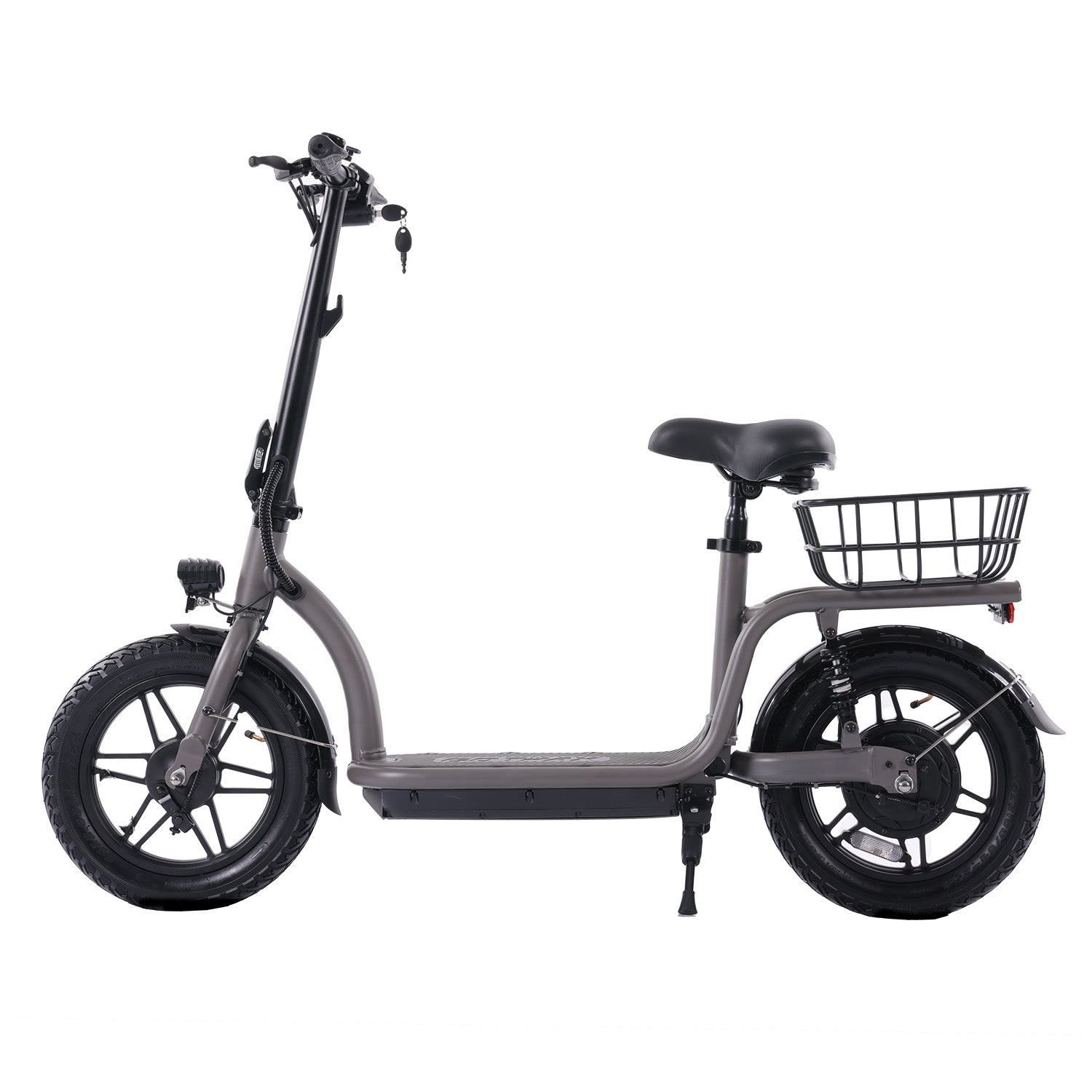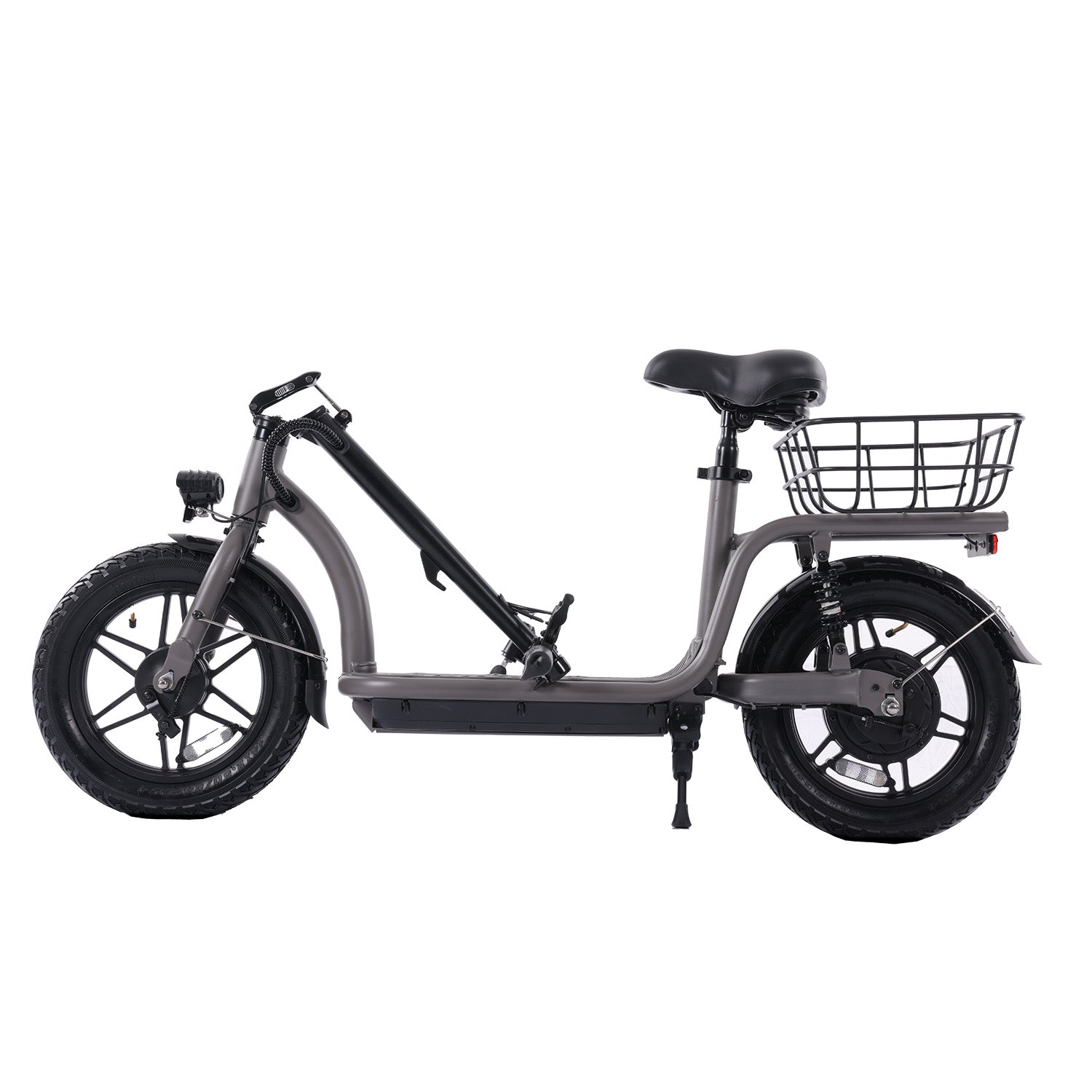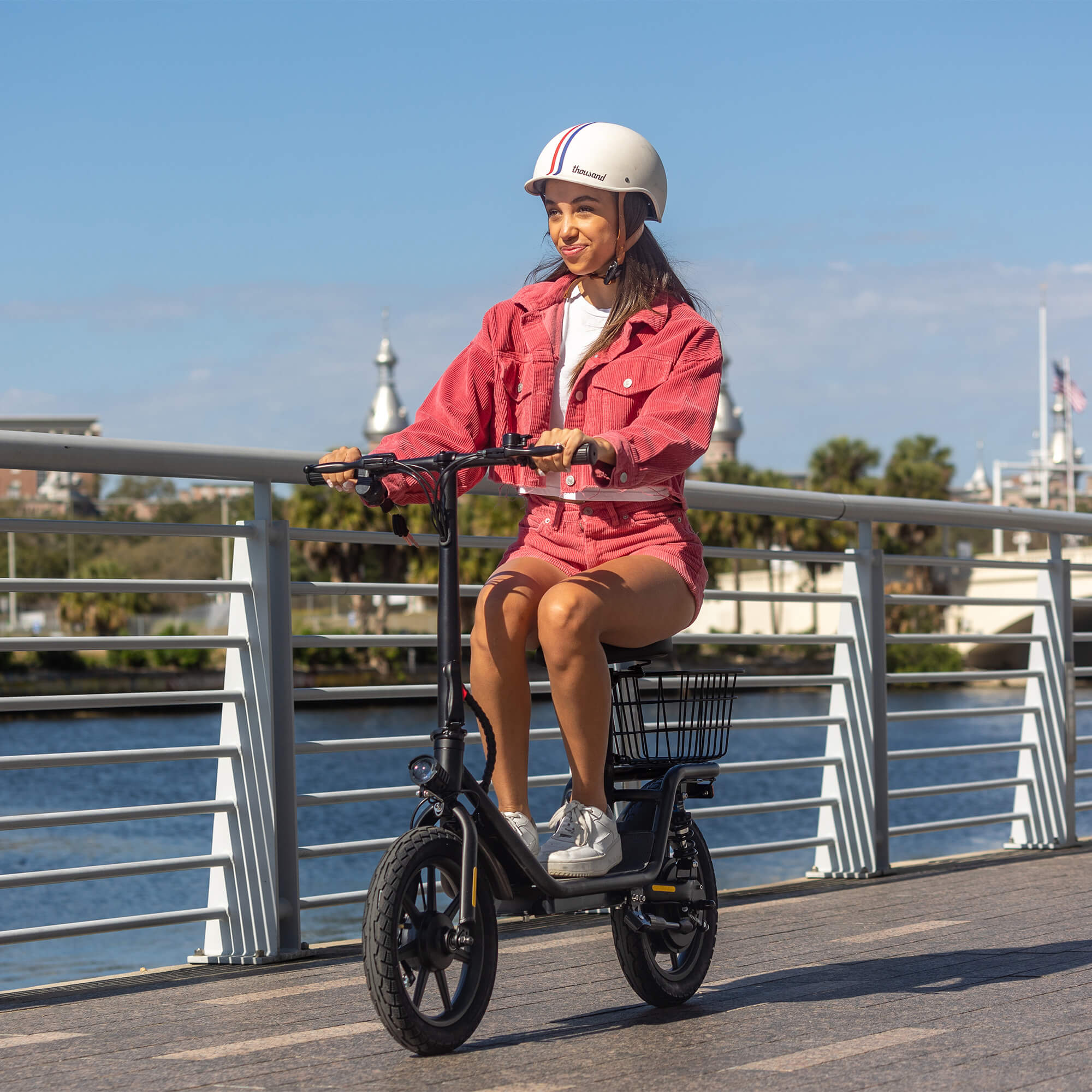 Flex Electric Scooter
The perfect blend of scooter and bike, the Flex is great for errands or for riding in comfort. A free storage basket is included.
---

FOLDING FRAME
EASY STORAGE


350W - 500W Avg
MOTOR SIZE
2 Year Warranty
GOTRAX Has you covered.
Safety Certified
In accordance with UL 2272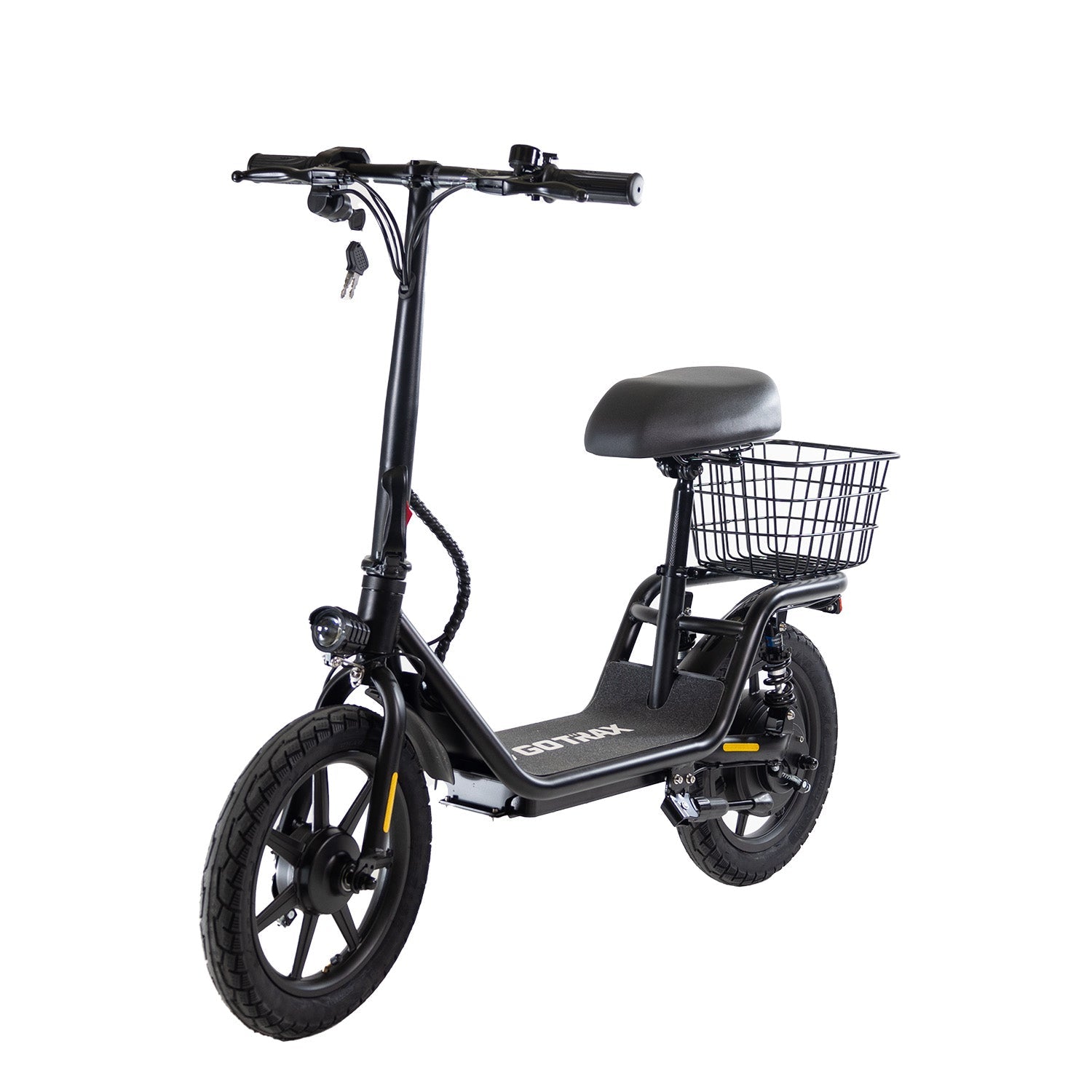 MODEL
Flex Electric Scooter
Features
Flex Commuter Electric Scooter
Take a seat and relax with the Flex. Our first electric scooter to come with a built-in cushioned seat, it's perfect for quick commutes around town. The Flex is also our first e-scooter to come with a rear storage basket for additional storage.
Cushioned Seat
The Flex offers comfort at its finest with its cushioned seat. Let the electric scooter do the work for you as you sit back and enjoy the ride.
Storage Basket
Enjoy extra room for what you can't carry on you. The Flex's storage basket is rated to carry up to 50 lbs.
Suspension
The Flex makes for one of our most comfortable rides yet thanks to its perfectly-positioned rear suspension, easily handling any cracks, bumps, or potholes you encounter as you ride.
14" Tires
The Flex's 14" pneumatic shock-absorbing tires ensure a smooth commute, even on bumpy city streets.
LED Headlight
The Flex's bright LED headlight provides important visibility during early morning and late night rides.
Dual Braking
The Flex features both front- and rear-wheel braking, keeping you safe and in control of your ride.
Miles Per Charge
16 miles / 17 miles / 18.6 miles
Max Speed
15.5 mph / 15.5 mph / 20 mph
Battery Size
36V 7.8aH / 36V 8.0aH / 48V 10aH Lithium Ion Battery
Brakes
Front and Rear Wheel Drum Brakes
Charger
42V 1.5A / 42V 1.5A / 54.6V 2.0A
Charge Time
6 Hours / 6 Hours / 5 Hours
This product is rated 4.7 of 5.0 stars.
It has received 29 reviews.
Gotrax Flex Add-Ons
Loves this commuter scooter. It gets great range on fully charged battery, also great speed. Very easy to assemble and you're ready to ride. Be sure to add air to the tires. You can also add some upgrades to your needs of comfort or style. Will purchase another one for friends or family when they want to ride along. Thanks Gotrax for making great scooters and bikes.
Flex
I THINK MY SCOOTY IS AWESOME U GUYS DID WELL SO FAR SO GOOD ITS ONLY BEEN A LITTLE LENTH OF TIME, BUT AS I SAID COOL... I HAD NO TRANSPORTATION NOW I DO THANKS. AND THANKS TO ME FOR CHOOSING GO TRAX.
Love it
If your thinking about purchasing DO IT I'm my son love it I got it for his 15th birthday and it's perfect I love the fact it comes with the key to start and it's perfect to commute he drives it to basketball practice and to the park and school great price with super performance
Dont buy this pos
scooter was good for the first 2 months of use after that it started breaking like the headlight the thing where it says the bettery percentage shows broke as well as both tires deflated within a week of each of other. so in other words dont buy this hunk of ****