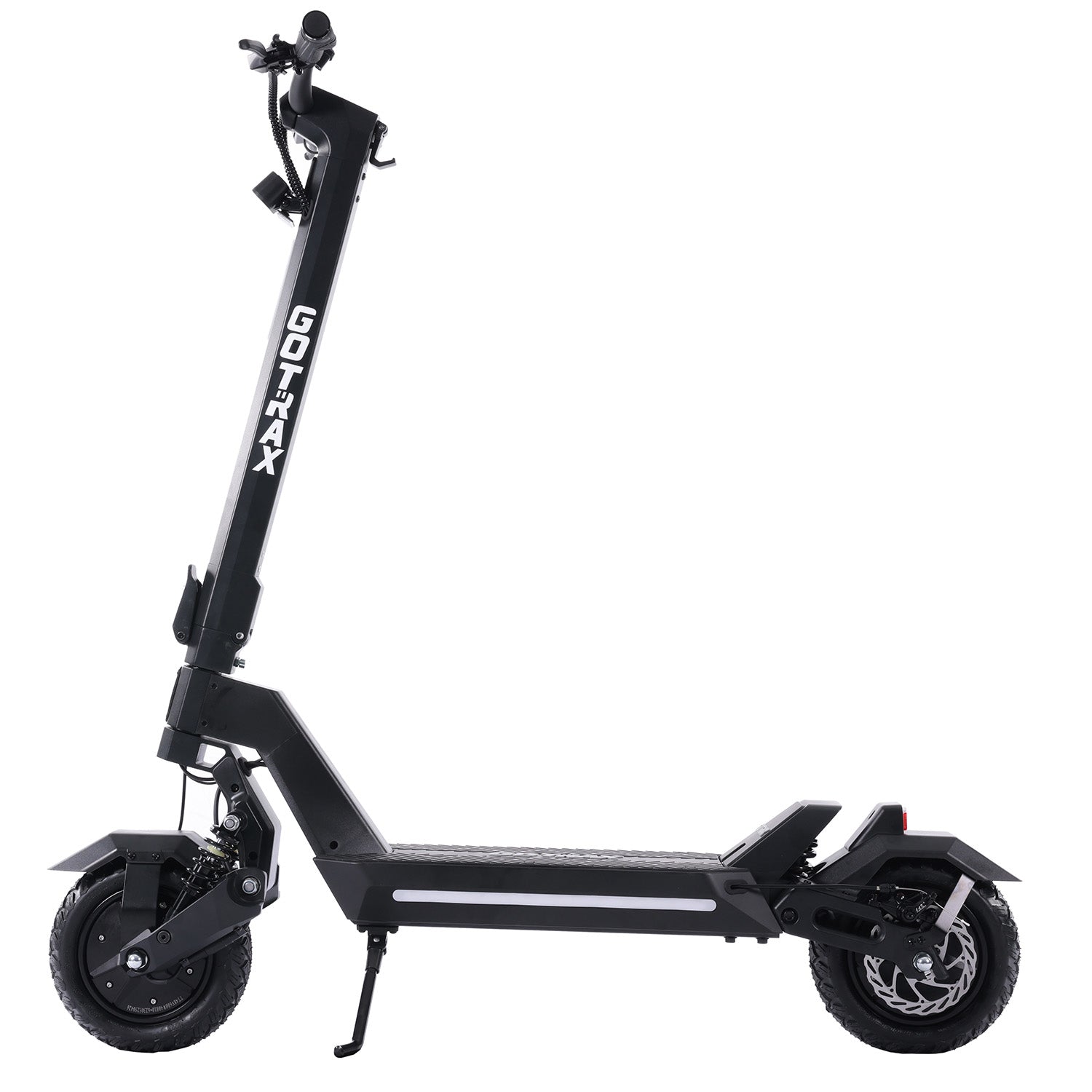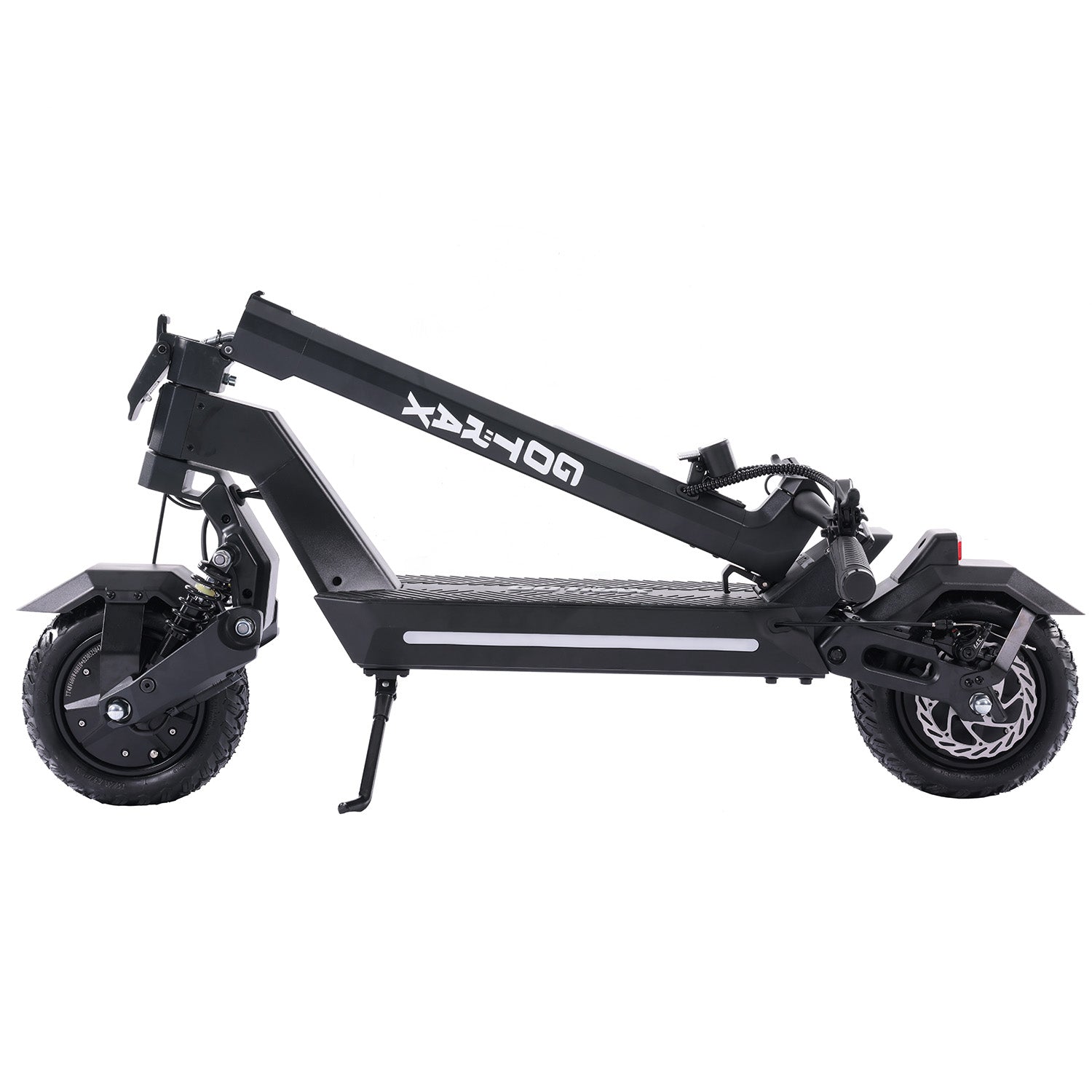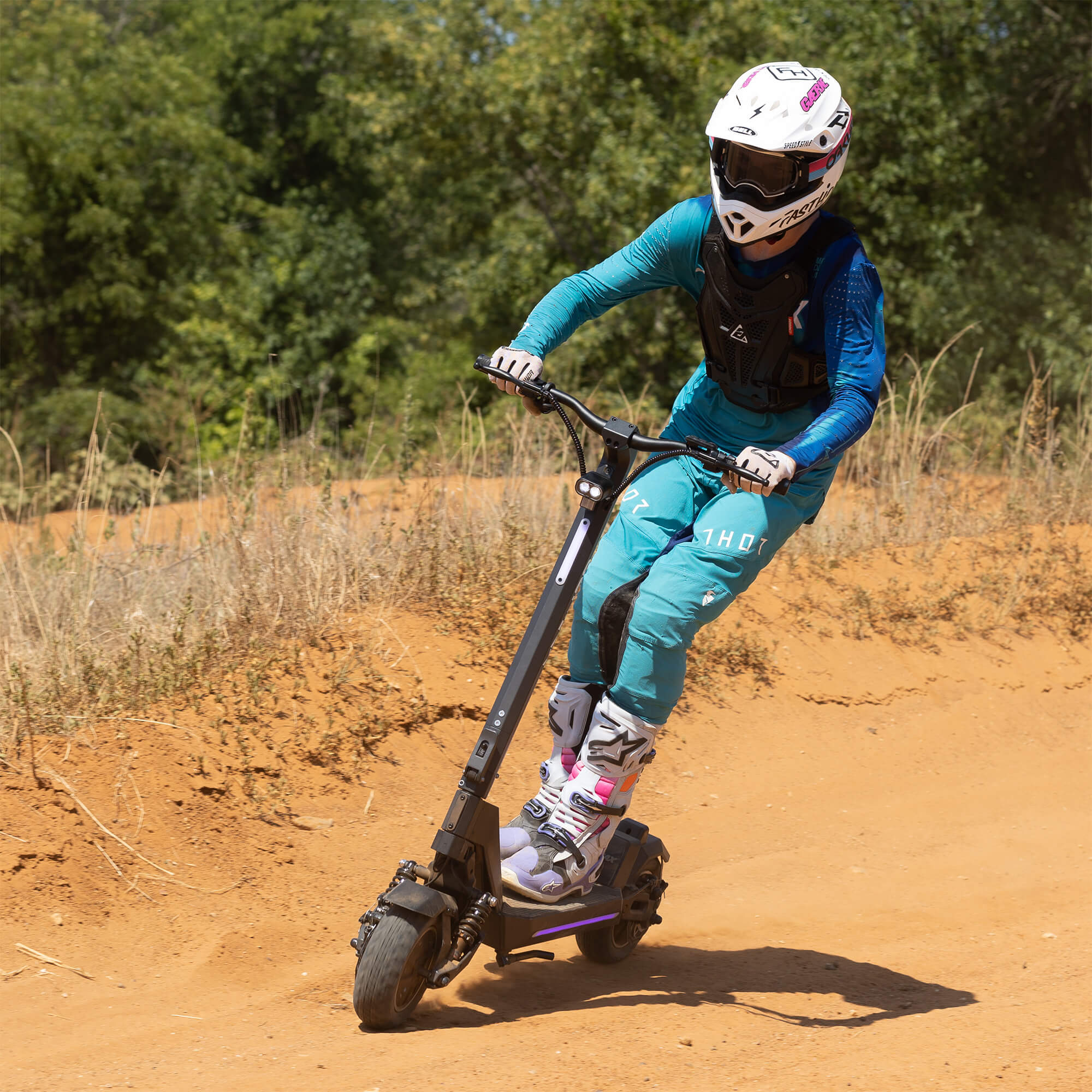 GX1 Electric Scooter
The GX1 is the ultimate electric scooter with a high max speed, full suspension, and all-terrain capabilities.
---

FOLDING FRAME
EASY STORAGE


DUAL SUSPENSION
Smooth Riding
2 Year Warranty
GOTRAX Has you covered.
Safety Certified
In accordance with UL 2272
MODEL
GX1 Electric Scooter
Features
GX1 Performance Electric Scooter
The GX1 is our introductory performance eScooter. GOTRAX is always looking to take that next step, and this is our biggest one yet. The GX1 features a dual motor, dual suspension, dual braking, and so much more. For off-road adventurers and riders looking for a boost in speed, this is the e-scooter for you.
Dual Suspension
The front- and rear-wheel dual suspension system allows for smooth riding, even on the roughest terrain.
Digital Display
The incredibly-detailed LED screen provides quick readouts on speed, motor mode, battery life, odometer, headlight control, and more. It includes a digital code feature that allows for added security.
Dual Braking
The GX1 features front- and rear-wheel breaking, keeping you safe and in control of your ride.
One-Touch Folding
Instantly fold your electric scooter in half for storage and carrying convenience with our one-touch folding mechanism.
Control System
Conveniently placed for ease of use, the control console allows you to interact with the GX1's digital display. Features such as speed mode, motor mode, walk assist, and headlight control are right at your fingertips.
Battery Size
48V 15aH Lithium-ion Battery (720Wh)
Frame Material
Aluminum alloy A6061 & Steel
Brakes
(Front & Rear) Disc Brake + Electromagnetic Brake
Suspension
Front & Rear Suspension System
This product is rated 4.6 of 5.0 stars.
It has received 21 reviews.
Fast, stable, and fun!
So I've had this scooter for about 3 weeks now and have put over 100 miles on it. My previous scooter was an Apex Pro so this was a massive upgrade.
The pros: It accelerates fast. Especially with the sport mode on. Having three separate speed settings (15, 21, & 30 mph) helps customize my ride based on how I'm feeling that day. On the steepest hill at 12% grade, I still go about 15 mph. Which is exceptional with dual motors loaded at 1200W. It lights up a bright blue on the sides and the front so night riding feels much safer.
Cons: The battery life. It's rated with a 25 mile range, but realistically get about 15-18 miles based on your terrain and average speed. Also, the battery bar is hard to gauge. I wish it had a percentage instead of the traditional battery bar.
But I've taken it off road on compacted dirt trails and it's a blast. The suspension is awesome. I go over my neighborhoods speed bumps and it handles them really well.
A full charge takes about in 4.5-5 hrs.
Overall, fast, stable, and fun scooter.
It's more heavy than expected, but it's an amazing scooter
Fun Scooter
Fun scooter to ride. There are a few quirks that are irritating.
The throttle seems too much of all or nothing; like 75% of acceleration is in the first 10% of the switch. Also, the parking/walking mode comes on VERY easy. I feel like I'm constantly shifting it back out of walking mode. It also doesn't handle hills as well as I'd hoped. The minor (less than 5% grade) on our side street takes more oomph to climb than expected from a 2-motor scooter.
It's fun. The kids love it. I ride it. After about a week it once you get used to the speed you want it to be faster. It's better than expected. I give it four stars because it's heavy to carry around.
I normally don't leave many reviews for products but I'm really impressed with the build quality and performance of this scooter. I'm a heavy rider and it handles well and is still fast with me on it. It has great suspension and is pretty stable at high speeds. Not to mention I am a new rider. Well done Gotrax!